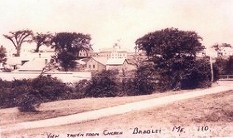 The Bradley Historical Society was established in November of 2010 by people representing all parts of Town to preserve the heritage of Bradley.   The Society wishes to inform the community of its history by collecting, preserving and displaying materials associated with our past.  The Society gladly accepts any donation of papers, pictures and artifacts relating to Bradley and its people (documents and pictures will be quickly scanned and returned if so desired).
The Society held its first meeting on November 16, 2010.
On March 1, 2011 the Bradley Town Council voted to approve the Bradley Historical Committee.  The formation of this committee was due to the fact that a Historical Society could not function financially on its own.  It was discovered through much research that to correctly start a Society, formation of non-profit status needed to be obtained; the cost for this was estimated to be $2500 to $5000.  With the formation of the committee, the Historical preservation of the Town may continue, however it will be done so under the direction of the Town Manager and Town Council.  The first gathering of the Committee was on March 16, 2011 with a Tea, Coffee and Snack social.  It was well attended with approximately 15 people viewing the photos and historical items that have been found thus far.  
The Bradley Historical Committee encourages anyone who is interested to please become involved.  For additional information or comment, please contact Maria Desrosiers at 827-3619.  You may also contact Town Manager, Melissa Doane at 827-7725 or mldoane@townofbradley.net.